UC San Diego Student-Run Free Clinic Project Volunteers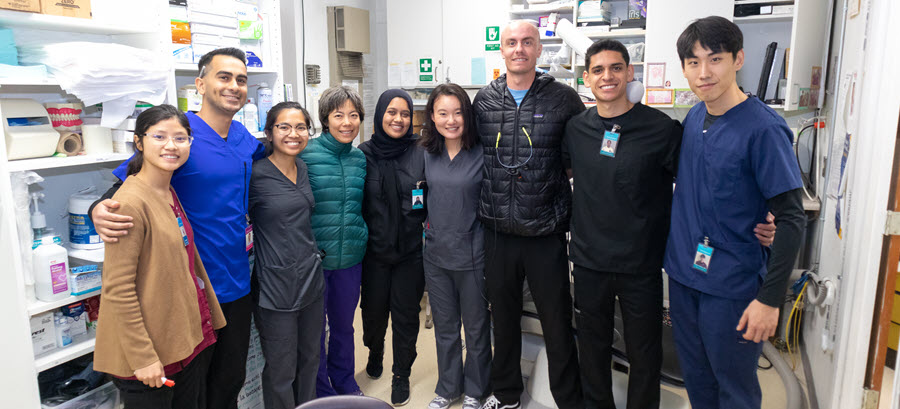 ​Interested in becoming a volunteer?
We are very grateful to all our volunteers. The commitment of our volunteer faculty, pre-health professional, and community volunteers has been instrumental in the growth of the clinic and the ever-increasing quality and breadth of care offered.
Student and Community Volunteers
The UCSD Student-Run Free Clinic Project volunteer roles for community members, undergraduate students, and/or future health professionals include helping patients access low-cost and/or free medications, managing the set-up/closing and flow of the clinic, patient intake, inventory and supply ordering, collecting and entering patient data, logging in and labeling patient medications and Spanish-English translators who assist patients, medical students, and faculty physicians in understanding each other. You will be exposed to an exciting atmosphere where you will work as a team to assist those in our community that have no other option for medical care.

To facilitate communication, we have set up a Facebook Group. Request to "Join Group" and be sure to answer all 3 questions asked. Once you're approved, update your notification settings to ensure you receive notices of volunteer openings as they occur. Please also review the pinned announcements and scroll through posts to ensure you're up to date with current needs. If we have any questions/issues with your group request, we will reach out via Facebook Messenger.

While positions can open up any time during the year, we have the greatest turnover in May/June and August/September. If there are no postings regarding an open position, it means we have a full staff of volunteers. Your patience is appreciated. Again, thank you for wanting to be a part of the UCSD Student-Run Free Clinic Project.
Health Professional Volunteers
If you are a CA licensed health professional interested in donating your time and skills to the health and well-being of the underserved in San Diego County, we wholeheartedly welcome your participation. Some of our volunteer faculty come as often as twice a month, while others come about once every few months. The majority of our volunteer faculty attend clinic once a month. We are appreciative of any commitment that you can make but do request at least one a quarter (or 4 times per year). All attendings at the Free Clinic Project must be or become members of the salaried or Voluntary Faculty of UCSD School of Medicine. If you would like to find out more and become a member of the team, please contact Lisa Deferville at ldeferville@health.ucsd.edu.
Pre-Pharm Volunteers or Pharmacists
Please contact Dr. Eduardo Fricovsky at esfricovsky@health.ucsd.edu
Dental Professional Volunteers
Please contact Dr. Sussi Yamaguchi at miss.sussiq@gmail.com
Pre-Dental Volunteers
Please review the UCSD Pre-Dental Society website.